From Lucky Loser To Champion: Ulises Blanch's Breakthrough
It was a pristine Sunday afternoon in Perugia, Italy. Beautiful, but scorching hot.
The searing sun and overwhelming humidity set the 119-year-old Tennis Club Perugia ablaze, as qualifying neared its conclusion at the Internazionali di Tennis Citta' di Perugia, an ATP Challenger Tour event. Summers in central Italy are notoriously hot, but Ulises Blanch did not expect conditions like this.
"It was brutal. I was playing really well in that last match of qualifying and I won the first set, but my legs started getting tight. I looked at my coach and made a face. I knew I was cramping. A game or two later, it started getting much worse. At the end of the second set, I was very close to full body cramping. There was no point in continuing."
Sweat cascaded down the 20-year-old American's brow. It streamed from his pores like an open faucet. Blanch was losing fluids at a rapid rate. One set stood between him and a first ATP Challenger Tour main draw appearance, but his muscles refused to cooperate.
A former junior No. 2, Blanch needed to win two matches in one day to qualify. In the morning, he had survived a two-hour and 14-minute marathon against Andrea Pellegrino, storming back from a 5-2 third-set deficit and saving a pair of match points. Physically and emotionally spent, Blanch would have only two hours to recover for his final round match. It wasn't enough.
He faced Spain's Pol Toledo Bague for a spot in the main draw, and after splitting sets, his body waved the white flag. But despite calling it quits, all was not lost. Hours later, Blaz Kavcic would withdraw with a right leg injury, opening the door for Blanch to enter the big show as a lucky loser.
"It was brutal, but it's pretty crazy how lucky I was," Blanch added. "Fitness wise, I still have a lot of room to improve."
Blanch's story would not end there. One of the most improbable and stunning runs to a title would ensue on the clay of Perugia. Behind a hyper-aggressive and free-swinging gameplan, the American blasted his way to his maiden ATP Challenger Tour crown without dropping a set.
Blanch would upset former World No. 9 Nicolas Almagro in the first round, followed by convincing wins over Spaniards Carlos Taberner and Bernabe Zapata Miralles and seventh seed Attila Balazs. A 7-5, 6-2 victory over in-form home favourite Gianluigi Quinzi saw him lift the trophy.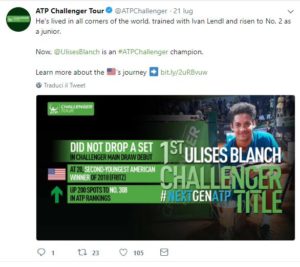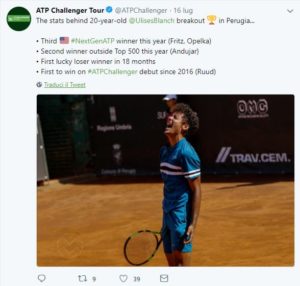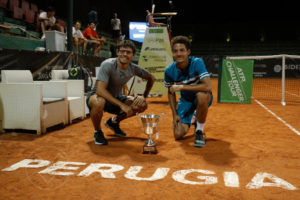 How did Blanch go from enduring full body cramps to capturing his maiden title? Even the 20-year-old has no explanation.
"I'm speechless. I have no words. It's different from anything I've ever felt. It's the biggest title I've ever won. To win it in my first main draw was unbelievable. I was just trying to enjoy it. There are no words to describe it.
"The ability to stay emotionally in place from the first ball to the last was pretty important for me. I was able to give myself a chance and just play my game, instead of being worried about other factors and beating myself. It got easier as the tournament went on and after I won a few rounds, I got better and better."
Blanch is the first player to win a Challenger title on debut since Casper Ruud in Sevilla, Spain, in 2016. He is also the first lucky loser champion on the circuit in 18 months, and just the second player to win a title while sitting outside the Top 500 of the ATP Rankings this year.
After previously falling in eight qualifying attempts at the Challenger level, it was well worth the wait for the surging American. In just one week, the then World No. 508 catapulted 200 spots, soaring to a career-high No. 308.
Blanch suddenly finds himself thrust among the burgeoning #NextGenATP American contingent, led by Top 100 star Frances Tiafoe. He is one of three to lift a trophy this year, joining Taylor Fritz (Newport Beach) and Reilly Opelka (Bordeaux).
"The biggest goal for me was trying to perform well in bigger tournaments. I felt like I could, but I wasn't able to give myself those chances. It was a dream for me to play this well and perform like I did. To do it in a tournament this big and to do it all week was unbelievable."